Out to Lunch Bunch Favors House of Tricks
Circling the Globe for Lunch
114 East 7th Street
Tempe
480-968-1114
Wednesday, April 12
Noon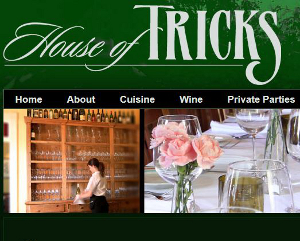 Lakes residents and their guests are invited to join the Out To Lunch Bunch on Wednesday, April 12 at House of Tricks, 114 East 7th Street, Tempe.
It is not a store for magicians, but an award-winning locally owned restaurant in the heart of downtown Tempe. Robin and Robert Trick opened their award-winning restaurant in 1987 in a remodeled 1920s cozy cottage. Later they acquired the property next door, a historically recognized adobe brick structure built in 1903, and linked the two properties with a wood deck and outdoor patio.
The gracious atmosphere, splendid cuisine and service make House of Tricks a local favorite. The food is Contemporary American cuisine with seasonally inspired menus that change regularly. See houseoftricks.com for the current menu.
Please make reservations at the Beach and Tennis Club no later than Monday, April 10. Let us know if you need a ride, as we will carpool from the Beach and Tennis Club at 11:30 AM for a 12:00 luncheon. There is a small, free parking lot behind the restaurant that may be accessed through the alleyway.
Call April Sapinski (480-831-7228) if you have any questions.
Classic Film Club
Third Wednesday of Each Month
Country: UK
Director: Matthew Warchus
Writen by: Stephen Beresford
Genre: Biography, comedy, drama
Running Time: 1hr 59min
Date: Wednesday, April 19
Time: 11:30 AM
The April Classic Film selection is "Pride", a drama about the solidarity of a group of gay men threatened by the closing of United Kingdom coal mines by Margaret Thatcher in 1984.
The Classic Film Club meets in the Adult Lounge on the third Wednesday of the month except for summer and the holidays. After a friendly pot luck at 11:30 AM, they screen a classic film. So if you're into film with an classic attitude, call the monthly hostess and give an RSVP to Smita at 416-890-6663.
Classic Film is a Potluck event, so RSVP to Gloria Hollingsworth at 480-838-0753 or Alecia Kindgren 480-839-1072 and bring a dish to share.
You're Invited to a Catered Italian Dinner
Tickets On Sale Now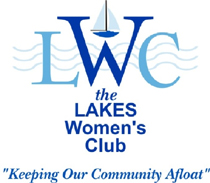 On Thursday, April 20 from 6-8 PM, Zappone's Italian Bistro will provide authentic Italian food at the Lakes Club for Lakes residents and their guests.
The menu will include a choice of one of two pastas: spaghetti bolognese (homemade meat sauce) or penne Alfredo (white sauce), fresh bread, a house salad, and cannoli for dessert. Water and fruit punch will be provided.
Guests should bring their own bottle of wine if desired.
There will be a 50/50 raffle with the proceeds going to Lakes Women's Club favorite charities such as the Child Crisis Center; Holiday giving tree for disadvantaged students from neighborhood schools and the Rene Ballou Nite Nite project.
Last day to buy tickets is Tuesday, April 18.
Tickets are available at the Beach and Tennis Club. Prices are $12 for adults; $6 child 3-10; ages 2 and under free.
There will be No Thirsty 3rd Thursday in April. The next Thirsty 3rd Thursday will be on May 18.
Histories and Mysteries
Third Thursday of Each Month
April Histories and Mysteries moved to April 27
The April meeting of Histories and Mysteries will be moved to Thursday, April 27 because the regular meeting night conflicts with the LWC Italian Dinner. See you at the Italian Dinner on Thursday, April 20 at 6 PM.
The Lakes Histories and Mysteries book club met to discuss The Lemon Tree on Thursday, March 16. The book is a true story of the interaction between a Jewish woman and a Palestinian man in the State of Israel. Respect is earned in the most difficult of circumstances.
April's selection will be Hotel on the Corner of Bitter and Sweet by Jamie Ford. This book is historical fiction about the love and friendship between a Chinese-American boy and a Japanese-American girl. The setting is after the Pearl Harbor attack and during the Japanese internment program.
Other books under consideration for future months are The Time Traveler's Wife, The Headmaster's Wager, Into the Mirror, and the Lace Reader. Please let us know if you are interested in these books for future consideration. We are also welcome to other suggestions.
For information, please contact clarkkfisher@gmail.com or michaelfritz905@msn.com
T3T Dark in April
Join us at the Italian Dinner April 20 at 6 PM sponsored by the Lakes Women's Club.