Lakes Community Chooses New Board Members
Congratulations!
Election Results

| | | |
| --- | --- | --- |
| Mark Reddie | 376 votes | Elected |
| Mike Rowley | 274 votes | Elected |
| Rick Rentschler | 250 votes | Elected |
Three new members of the Lakes Community Association Board of Directors were chosen at the forty-sixth LCA Annual Meeting held on February 14 at the Beach and Tennis Club. Each of the three new members will occupy a three year term on the board. After the results of the election were read, the new board assigned the new board positions.
Lakes Man and Woman of the Year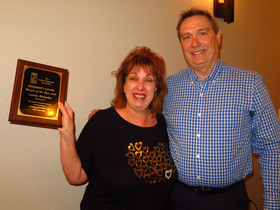 Every year at the Annual Meeting, the LCA Board of Directors chooses a woman and a man who live in the Lakes and have given the most of themselves and their time to help make the Lakes a better place. This year Launie Harlacher, president of the Lakes Women's Club, was chosen as 2016 Lakes Woman of the Year. Launie has been involved with the LWC for many years, has worked hard with the LWC which sponsors many events such as the Rene Balleu Project Nite Nite, adult health seminars, and the annual Lakes Garage Sale to fund the LWC service projects. The LWC donates money to local schools and, through the Giving Tree, brightens the lives of local school children at the holidays. Launie is pictured with LCA President Dave Kemper.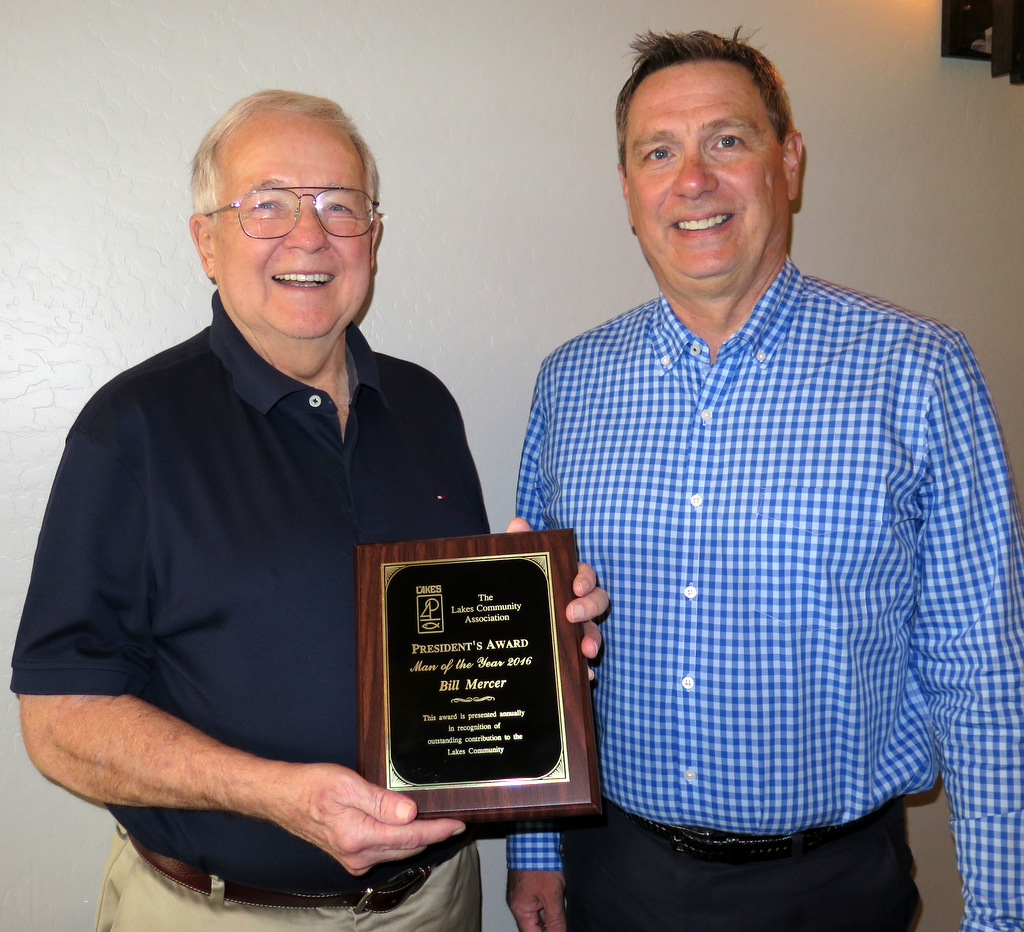 Bill Mercer is the 2016 Lakes Man of the Year. Bill is a member of the Infrastructure and Maintenance Committee which is responsible for much of the research and planning for many of the large and technical construction projects in the Lakes. Among such projects are the upcoming irrigation conversion project and the tennis, volleyball and basketball court conversion to LED lighting which will account for a significant saving in lighting costs for the community. Bill's vast knowledge of the Lakes operation and his willingness to help is a great asset to the community.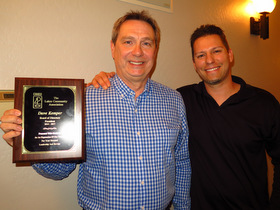 Outgoing LCA President, Dave Kemper, pictured with LCA Vice President Mike Pameditis, was bestowed a plaque in appreciation of his devoted leadership and service throughout his years as president of the board.
LCA Irrigation Water Conversion Project
Power Point Format
LCA Board of Directors President Dave Kemper has prepared a Power Point presentation on the upcoming irrigation conversion project.
The project involves converting the Lakes common area irrigation water source from the city of Tempe to Salt River Project. The conversion is an investment now that will reduce Lakes water costs in the future.
Click on the picture to view or save the presentation.
Lakes Documents Available Online
Download Them All!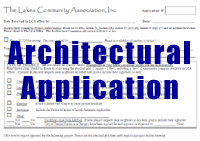 To maintain the high standards of development that exist in The Lakes, all owners must obtain approval from the Architectural Committee before any changes can be made that affect the appearance of structures and landscape.
You can download a copy of The Lakes Architectural Application as well as the Architectural Rules, CC&Rs and more at The Lakes Document Download.
Tempe Bulk Trash 2017 Collection Schedule
Collection Day
Collection Type
Tempe Area F
The Lakes
January
9
Bulk
February
No Pickup
March
13
Bulk
Green
April
No Pickup
May
8
Bulk
June
No Pickup
July
10
Bulk
Green
August
No Pickup
September
11
Bulk
Green
October
No Pickup
November
13
Bulk
December
No Pickup
You can find further information at the Tempe.gov website.

Tempe Mixed Waste Collection
Beginning in January 2015, residents will receive mixed bulk trash pickups every other month. This material is too big to fit in your regular trash bin. All of it is taken to the landfill.
Mixed Waste Acceptable Items
Furniture, large items
Non-Freon appliances such as washers and microwaves
Yard waste such as oleanders, palm fronds, bagged grass and weeds
Green organic material that is mixed in with other bulk items Note: This material will not be composted if mixed with bulk.
Mixed Waste Unacceptable Items
Appliances with Freon such as refrigerators, freezers, dehumidifiers, ac units
Hazardous materials such as paints, oil
Green Organics
The city has also reinvented its Green Organics program, which turns most yard waste into nutrient-rich compost. These optional pickups will occur seasonally, in spring, fall and winter, to coincide with the growing and trimming seasons. There will be a total of 3 pickups each year. Instead of going to the landfill, this material is taken to the city's composting facility where it is recycled.
Green Waste Acceptable Items
Tree trimmings and brush, tree limbs, branches, trunks and stumps
Leaves, pine needles, small hedge clippings placed in cardboard box or compostable bag
Cactus clippings placed in cardboard box
Green Waste Unacceptable Items
Grass, palm fronds and oleanders. These items do NOT compost well and should go in your bulk trash pile instead
Bulk trash items as listed above
Hazardous materials such as paints, oil
Architectural Rules
Each month, a different Architectural Rule will be covered here. At the same time, Lakes staff will be carefully screening properties to ensure compliance of the rule covered that month.
Making a Change and Submitting an Architectural Application
You have finally decided to change the landscaping or perhaps it's time to paint your home or add a new gate or roof. Whatever visible changes you want to make to your home whether front yard or lakeside will require an Architectural Application.
When you submit an application, it becomes part of your permanent homeowner's file. It is the useful, documented history that is passed on from buyer to buyer.
The applications and the rules that pertain to whatever changes you want to make are located in the Lakes office and online at the LCA document download. All applications including approvals, turn downs and letters of infractions are kept private and available only to The Lakes Office staff and Architectural Committee members.
Architectural meetings are held on the first Tuesday of every month at 7 PM at the Clubhouse. Any homeowner with a question or application may attend the meeting. However, to protect all homeowners' privacy the meetings are otherwise closed. If you would like to meet with the Committee, it is best to sign up beforehand with The Lakes Office staff.
Committee members also review and approve applications throughout the month (usually once a week) to make sure homeowners' projects aren't slowed down by the process.
If you have taken a drive around The Lakes, by car or boat, we hope you notice how good our homes and yards are looking. New paint colors are showing up and the oldest rule of all, "80% green grass/ground cover", is becoming more noticeable. If you happen to get a letter of infraction, it can be a bit irritating to be reminded, but it is what keeps The Lakes looking "new" in light of being over 40 years old!
Submitted by the Architectural Committee
Street Sweeping
Third Wednesday of every month
Make a mental note to park your car(s) in your driveway in order that the sweeper can do a thorough job. Thanks!
Lakes Community Association
View or Download
Lakes Documents
All the most asked-for Lakes documents are available online; Architectural Applications to Architectural Rules; CC&Rs to Reserve Study; Clubhouse Rules to Fishing Rules and more.
You may view the docs online on the Document Download page in your web browser or download and save them to your computer.
2017 LCA
Board of Directors
| | |
| --- | --- |
| President | Mark Reddie |
| Vice President | Rick Rentschler |
| Secretary | Tony Rao |
| Treasurer | Rick Andrews |
| Director | Kim Brown |
| Director | Charlie Liko |
| Director | Mike Pameditis |
| Director | Mike Rowley |
| Director | Michael Santopadre |
The Lakes
Community Manager
| | |
| --- | --- |
| Community Manager | Christine Baldanza |
LCA Annual Meeting
Tuesday, February 14, 2017; 8 PM
The first meeting of the members of The Lakes Community Association was held February 8, 1972 and has been held on the second Tuesday in February at 8 PM ever since.
This year's meeting of the members will be held on Tuesday, February 14 at 8 PM in The Lakes Beach and Tennis Club. At the meeting, the results of the 2017 Board of Directors election will be announced and the new board will elect officers.
2017 Board Meetings
| | |
| --- | --- |
| January | 25 |
| February | 22 |
| March | 22 |
| April | 26 |
| May | 24 |
| June | 28 |
| July | No Meeting |
| August | 23 |
| September | 27 |
| October | 25 |
| November | 15 |
| December | No Meeting |
LCA board meetings are held on the fourth Wednesday of each month at 7 PM in the upstairs lounge in the LCA Clubhouse. There is no regular meeting in July or December. In November, the meeting is held the third Wednesday because of Thanksgiving.
An agenda is posted on the Clubhouse bulletin board five days prior to the monthly board meeting. Members who desire to discuss a problem with the board and seek a resolution are requested to provide the association office with a short description of the problem and any proposed solution at least seven days prior to the meeting. The information will be included in the board's meeting package.
LCA Committees
Activity
Chair: Kay Smith
Board Liaison: Pending
Second Wednesday of the month at 7 PM
---
Architectural
Chair: Ray Oliver
Board Liaison: Tony Rao
First Tuesday of the month at 7 PM
---
Architectural Nominating
Members: Mike Pameditis, Tony Rao, Rick Rentschler
---
Budget and Finance
Chair: Marty Garrett
Board Liaison: Rick Andrews
Tuesday of the week preceding the LCA board meeting at 7 PM
---
Fishing and Boating
Chair:Lee Dettling
Board Liaison: Mike Rowley
First Monday at 6 PM
---
Infrastructure and Maintenance
Chair: Craig Hanson
Board Liaison: Tony Rao
---
Lakes Log
Chair: Gloria Hollingsworth
Board Liaison: Mike Rowley
---
Lakes Women's Club
Chair: Launie Harlacher
Board Liaison: Kim Brown
First Thursday of the month at 6:30 PM
---
Nominating
Board Liaison: Pending
---
Personnel and Compensation
Members: Mark Reddie, Michael Santopadre, Tony Rao, Rick Rentschler
---
Risk Management
Members: Mark Reddie, Kim Brown, Tony Rao
---
Swim Team
Chair: Lisa Nelson
Board Liaison: Rick Rentschler