Thirsty Third Thursday Visits the Vine
All Lakes Residents and Their Guests Are welcome!!!
975 East Elliot Road
Tempe
480-730-6313
Thursday, August 16
5:30 PM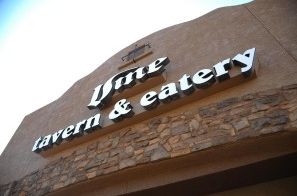 Jane will be your greeter at The Vine Eatery and Tavern on Thursday, August 16 at 5:30 PM. The Vine is located at 975 E. Elliot Road, at the southeast corner of Elliot and Rural; phone number 480-730-6313.
The Vine has been at this location for a number of years and now they're holding their grand reopening! They have recently re-decorated and updated and I'm happy to say that their food remains as delicious as ever, with the same gracious and friendly service they have always provided. The changes are so new, they haven't had time to update the photos on their website!
The Vine is open seven days a week and features a daily Happy Hour from 3 to 7 PM. The Vine's atmosphere is relaxed and family friendly - a terrific place to eat, socialize and watch all of your favorite sporting events. You can check out their wide variety of menu items at their website vinetavern.com.
All guests are welcome as we meet, eat, and enjoy this newly renovated neighborhood spot. Everyone deserves a break from our busy schedules, so come on over, sit, chat, enjoy! Please come, even if you are solo. Just look for us at the group table. Ask the staff to point us out. We hope to see you then!
Submitted by Jane Morrissey
Lakes Labor Day Potluck Picnic...
Not End of Summer. Sad!
Mark your calendar for Monday, September 3 from 5 to 7 PM and plan on spending part of your day at the Beach and Tennis Club for our annual Labor Day Potluck Picnic.
Come enjoy music by the pool while spending time with neighbors and friends.
Residents are asked to bring a favorite picnic side dish such as deviled eggs, potato or pasta salad, coleslaw, or corn on the cob. Show off your best baked beans! Make an apple pie – or any favorite dessert.
Your potluck dish should be for at least eight people. No chips, please.
The Lakes will provide grilled hamburgers and hot dogs, lemonade and water. Food will be served at 5 PM.
See you there!!!
Is Your Club On Summer Vacation?
Who can blame them?
LWC:

Dark; back in September

Out To Lunch Bunch:

Dark; returns in September

Classic Film:

Dark; returns in September

Book Club:

Dark; returns in September

T3T:

Will meet on the third Thursday all summer long!