The Official Website of The Lakes of Tempe - thelakesoftempe.com
It's Flo's New Asian Cuisine for Thirsty Third Thursday
All Lakes Residents and Their Guests Are welcome!!!
788 East Baseline Road
Tempe
480-588-7922
Thursday, July 20
5:30 PM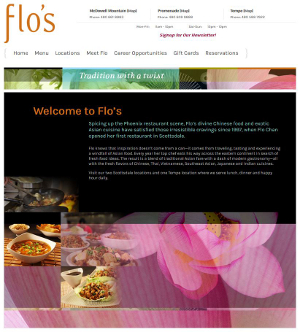 Jane will be your greeter at Flo's New Asian Cuisine on Thursday, July 20 at 5:30 PM. Flo's is located at 788 East Baseline Road in Tempe in the former McDonald's restaurant on the north side of the street; phone 480-588-7922.
You won't want to miss this fun-filled event at one of our favorite neighborhood eateries. All are welcome as we socialize with neighbors and friends, and enjoy the terrific Happy Hour that Flo's is famous for!
The restaurant features half-price appetizers and drink specials for Happy Hour, as well as a full lunch and dinner menu consisting of Asian fusion entree choices. You can view their full menu at their website madebyflo.com.
Everyone deserves a break from our busy schedules, so come on over, sit, chat, enjoy! Please come, even if you are solo. Just look for us at the group table. Ask the staff for the reservation under Jane.
We hope to see you then!
Submitted by Jane Morrissey
Kids Swim Time at the Beach and Tennis Club
&nsp;
The Lakes is hosting Kids Swim Time again this summer every Wednesday from June 7 till the middle of July.
Drop off your kids ages 7-12 at the Beach and Tennis Club from 10 to 11:30 AM for fun and swimming and a snack every Wednesday.
The kids will have fun supervised by Lakes Staff in our pool with new and old friends from the Lakes community.
There's no charge for Lakes Kids Swim Time, but prior sign up is definitely required. Call the Club at 480-838-3274 for more information.