Lakes Spring Fling
A Gnarly Event from the Activity Committee
Check the New Date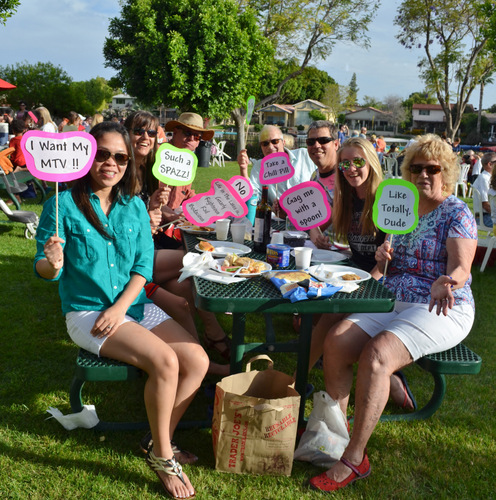 Bring your family and friends to the Lakes Spring Fling on Sunday, May 8 from 4 to 7 PM in the large park at the Beach and Tennis Club. Enjoy live music, delicious food, and beautiful weather.
Mark your calendars for a fun Sunday afternoon in the park with popular Valley band, Rock Lobster playing cover hits from the 80's sponsored by the Lakes Activity Committee.
Celebrate the 80's theme with your big hair and Ray Bans, parachute pants and half shirts, boom boxes and track suits. Use as much eye liner as you can spare and dig out the neon attire as Rock Lobster performs all the favorites from your old "mix" cassette tapes.
Submitted by the Lakes Activity Committee
Lakes Swim Team Sign-Up Ice Cream Social
Sunday, May 15
Dive into some deep fun at the Lakes this summer! Keep the kids active and healthy during those hottest months while they build swimming skills and enjoy participating on the Lakes Snakes Swim Team.
Mark your calendar for Sunday, May 15 for the Lakes Swim Team Annual Ice Cream Social. Register your children ages 5 to 18 from 2 to 5 PM, order your team suit and enjoy free ice cream sundaes. The Swim Team Committee and team coaches will be on hand to answer all your questions. You can also sign-up for summer swim instruction with Coach Sheila. All returning, new and interested swimmers, come join us!
Poolside with the Lakes Swim Team is the cool place to be in the summer! Kids can learn how to swim correctly or perfect their strokes, get fit, enjoy camaraderie among team members, and practice good sportsmanship. The long-standing tradition (42 seasons now!) of the Lakes Swim Team provides a perfect opportunity for families to meet and spend time with each other; the kids really enjoy reconnecting with their Snakes team members each summer.
Register online at the Snakes website www.teamunify.com/Home.jsp?team=recevlts. Swim team members will find important information there: news, meet and event schedule, team information and contacts, location and maps to away meets as well as the merchandise order form. Check it out.
The tentative season for Lakes Swim Team is Wednesday, June 1 through Saturday, July 23.
Monday - Friday Practice Times

| Age Group | Start - End |
| --- | --- |
| Older Teens | 6:30 - 7:30 AM |
| Age 9 to 12 | 7:30 - 8:30 AM |
| Age 5 to 8 | 8:30 - 9:15 AM |
Swim meets are usually Saturday mornings with a few Tuesday and Thursday evening meets as well. We are looking to have 8 meets this summer and a holiday break July 1-5.
Swim Team Sponsors:
Support our swimmers with your sponsorship of $75 for new and $50 for returning sponsors. Have your name, business name or logo displayed on the swim team banner at the pool and recognized in the June and July Lakes Log. Contact Susan Goodykoontz at susangoody@gmail.com to become a sponsor or renew.
Questions?
Email us at swimteam@thelakesoftempe.com. See you at the pool!
Submitted by Suzanne Reddie