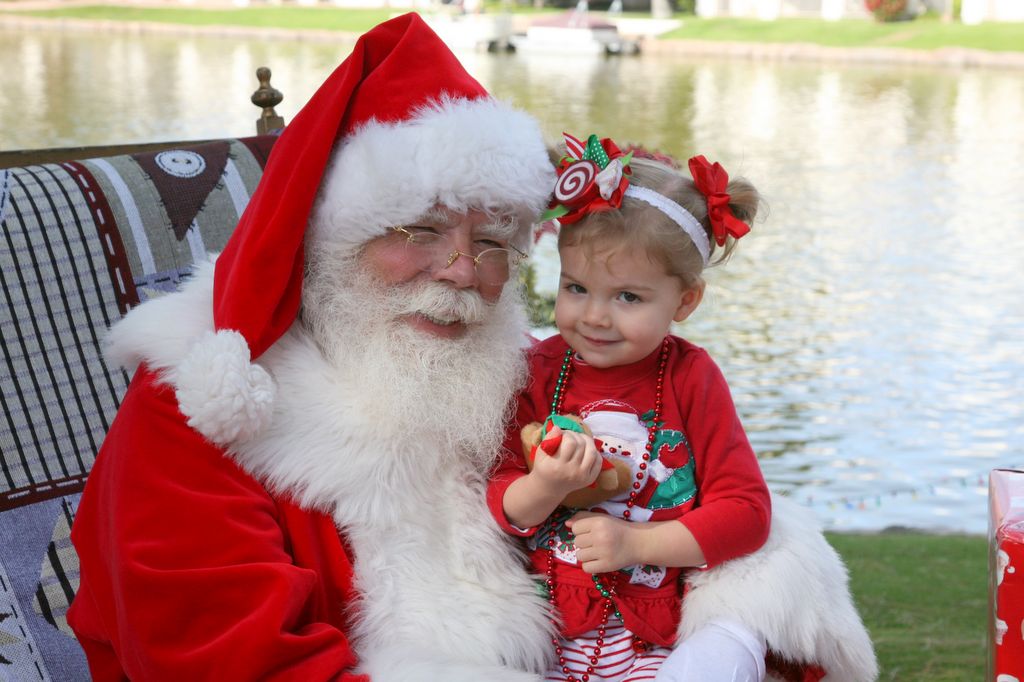 Decorate Your Boat for the Lighted Boat Parade
Saturday, December 20; 6 PM
Boat Owners: Get creative!
Whether you own a pontoon or a pedal boat, kayak or canoe, you're invited to decorate your boat for the holidays and please participate in The Lakes Lighted Boat Parade.
Bedazzle your boat with holiday decorations and lights powered by a generator or a battery and inverter. Be sure to register at the Clubhouse please no later than Friday, December 19. There is no registration fee to join The Lakes Lighted Boat Parade.
Prizes, prizes, prizes!
Every participant will receive a participant gift and a number to place on the starboard (right) side of your boat for judging. There will be BIG prizes for first, second, and third place winners and the People's Choice Award!
It's Simple:
Decorate your boat; register at least a day in advance; meet at Christmas Island by 6 PM. We hope to see you there.
Join Us at The Lakes Lighted Boat Parade
Saturday, December 20; 6 PM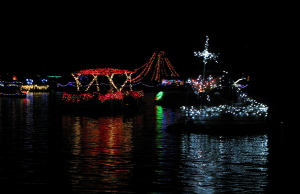 The annual Lakes Lighted Boat Parade will be Saturday, December 20 at 6 PM at the Boardwalk next to Pier 54. The Lighted Boat Parade is a popular and well-attended community event so you're bound to meet plenty of people you know.
You'll Decide
Join us for cookies and hot cocoa and watch your Lakes friends and neighbors parade their brightly decorated boats around Christmas Island. After the boats pass, judges will award prizes for the first, second and third place winners and the audience will vote for the People's Choice award.
Lakes Lighted Boat Parade Schedule
Saturday, December 20

| | |
| --- | --- |
| 6:00 PM | Parade around Christmas Island for judging |
| 7:00 PM | Judging results announced at the Boardwalk |
| 7:15 PM | Lighted boats will cruise the waterways |
Light Up The Lakes with Luminaries
Sign Up Now
Order your luminaries now at the Clubhouse!
Luckily, our local Boy Scout Troop is again offering already-prepared luminaries delivered to your door on Saturday, December 20.
Luminaries are $8 per dozen and you can order as many dozen as you wish. They make wonderful gifts for your neighbors and other Lakes residents. Talk with your neighbors and make YOUR block the first block full of luminaries. Please make your check to LCA and include it with your order form. Download the order form.
This is one of those wonderful partnerships where everyone benefits: we have luminaries to light up The Lakes on December 24 (if not the 24th, pick another night) and the Boy Scouts provide a service that nets them funds for needy Rover school families. A win-win!
Sign-up now at the Clubhouse no later than December 19 and make this the holiday year that we really LIGHT UP THE LAKES with LUMINARIES!!
Sponsored by The Lakes Women's Club
New Year's Day Snow Frolic
Happy New Year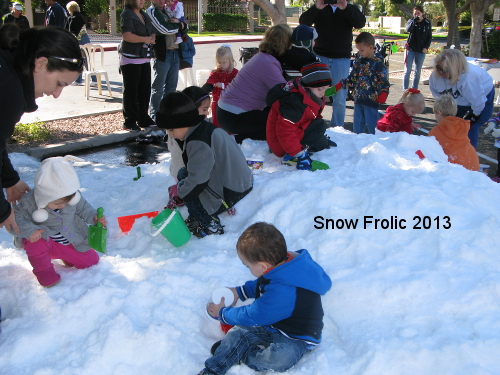 The Lakes Women's Club is again sponsoring the annual Snow Frolic fun family event for New Year's Day! Join us from noon till 2 PM at the Clubhouse for a variety of relaxing, welcome-in-the-new-year activities:
Snow at the Clubhouse!!
Wear warm, water-proof clothes! Don't forget your gloves! We'll have two "snow hills" for kids!
Make your best snowman!
Hot cocoa, drinks and PB&J sandwiches provided
Pot-luck appetizers: you're welcome to bring an appetizer to share
BYOB!
TVs inside with football games
Visit with friends and neighbors
WELCOME 2015! See you there! And Happy New Year!
We're Taking the Plunge Again! The Polar Plunge!
Join Us!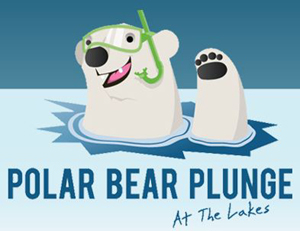 The Lakes Activities Committee invites you to come freeze your paws for a great cause - the fourth annual Polar Bear Plunge at The Lakes! The desert-style, unified plunge will be held at 9 AM on Saturday, January 10, 2015 at the community pool.
Brave Polar Bears are invited to plunge into the cool pool. Those wishing to stay dry can participate as Teddy Bears. The entry fee is $20 for either Bear and includes a cool t-shirt, hot beverages and yummy snacks. You can register online at www.LakesPolarPlunge.com or sign-up the morning of the Plunge.
Thanks to generosity of The Lakes community, we have helped enable members of our special needs community to participate in recreational and social activities, including:
Thanks to generosity of The Lakes community, we have helped enable members of our special needs community to participate in recreational and social activities, including: Tempe High's adapted PE program, The Arc of Tempe and the City of Tempe's Adapted Recreation Programs, including Tempe Special Olympics, Buddy Bowling, Camp Challenge and many more!
The Plunge will chill your bones, but warm your heart. All you have to do is jump. Brrrrrrrrrrrrrriiiing it!
Connect with us on facebook at www.facebook.com/GoTeamAsa and watch for weekly updates. If you have any questions, please contact Denise Rentschler at 602-329-1955 or drents@cox.net.