Histories and Mysteries
Third Thursday of Each Month
The club decided to depart from the usual book reading format in December. Each member chose a passage that was of interest or spoke to them and shared it with the group. Discussion on what was conveyed in the passage and what it meant followed. This was very successful and we hope to use this format again.
Next: Girl Waits With Gun
The next book that we will read will be Girl Waits with Gun by Amy Stewart. Constance, the protagonist is a "rough and tumble" version of an early twentieth century "New Woman". As one of America's first female deputy sheriffs, she is "witty, sharply drawn and suffers no fools". Join us on January 19 at 7 PM at the Lakes Beach and Tennis Club. For information about the club, please contact clarkkfisher@gmail.com or michaelfritz905@msn.com
T3T Picks New Asian Cuisine at Flo's
All Lakes Residents and Their Guests Are Welcome!
788 E. Baseline Road
Tempe
480-588-7922
Thursday, January 19
5:30 PM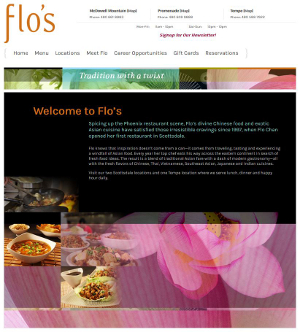 Jane will be your greeter at Flo's New Asian Cuisine on Thursday, January 19 at 5:30 PM. Flo's is located at 788 E. Baseline Road in Tempe, in the former McDonald's restaurant, on the north side of the street. The phone number is 480-588-7922.
You won't want to miss this fun-filled event at one of our favorite neighborhood eateries. All are welcome as we socialize with neighbors and friends, and enjoy the terrific Happy Hour that Flo's is famous for! You can view their full menu at the website madebyflow.com. The restaurant features half-price appetizers and drink specials for Happy Hour, as well as a full lunch and dinner menu consisting of Asian fusion entree choices.
Everyone deserves a break from our busy schedules, so come on over, sit, chat, enjoy! Please come, even if you are solo. Just look for us at the group table. Ask the staff for the reservation under the Lakes Women's Club. We hope to see you then!
We're Taking the Plunge Again!
Saturday, January 21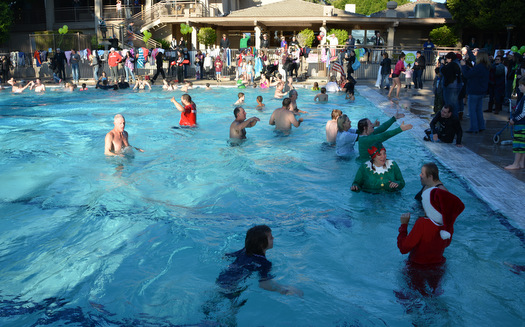 The Lakes Activity Committee invites you to come freeze your paws for a great cause – the seventh annual Polar Bear Plungxe at The Lakes! The desert-style, unified plunge will be held at 9 AM on Saturday, January 21, 2017 at the Beach and Tennis Club pool.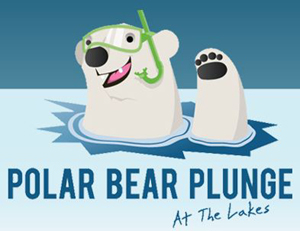 Brave Polar Bears are invited to plunge into the cool pool. Those wishing to stay dry can participate as Teddy Bears. The entry fee is $20 for either Bear and includes a cool t-shirt, hot beverages and yummy snacks. You can register online at www.LakesPolarPlunge.com or sign-up the morning of the plunge.
Thanks to the generosity of The Lakes Community, we have helped enable members of our special needs community to participate in recreational and social activities, including: The Centers for Habilitation, Tempe Elementary and Tempe Union High School Districts and the City of Tempe's Adapted Recreation Programs, including Tempe Special Olympics, Buddy Bowling, Fabulous Friday Night Dances and many more!
The Plunge will chill your bones, but warm your heart. All you have to do is jump. Brrrrrrrrrrrrrring it!
Connect with us on facebook at www.facebook.com/GoTeamAsa and watch for weekly updates. If you have any questions, please contact Denise Rentschler at 602-329-1955 or drents@cox.net.
2017 LCA Board Election
Results Announced at Annual Meeting February 14
The election for the 2017 LCA Board of Directors is now in progress. Three Lakes homeowners have applied for candidacy and have been accepted to run for the three open positions on the board. Their statements are available on the Candidates page.
Ballots are being mailed to all Lakes homeowners during the week of January 9. If you do not receive a ballot by the end of the week, call or visit the LCA office for a replacement. The LCA office phone is 480-838-1023.
Three current board members are retiring at the completion of their terms: President Dave Kemper, Secretary Kirk Hudson, and Director Ray Oliver.
Election results will be announced at the Lakes Annual Meeting on Tuesday, February 14 at 8 PM in The Lakes Beach and Tennis Club. The election of Board officers follows immediately.
Ballots Must Be Mailed
The Lakes Board of Directors has chosen a local law firm experienced in HOA law, Vial Fotheringham, to conduct the election. Your ballot is to be mailed directly to the election handlers in the pre-addressed envelope provided with the ballot. The ballot should be placed in the mail no later than February 10 to ensure that the ballot will be delivered to the election handlers no later than February 14.
You may not deliver your ballot to the LCA office at any time prior to the LCA Annual Meeting on February 14. You must mail your ballot to the address on the ballot.
However, you may hand carry your ballot to the LCA Annual Meeting on the night of Tuesday, February 14 per LCA By-Laws and Arizona Revised Statutes 33-1812. ID will be required to hand carry your ballot to the Annual Meeting.
All Lakes homeowners are encouraged to attend the Lakes Community Association Annual Meeting.
Wine and Cheese Happy Hour
Friday, January 27
The Lakes will be having another Wine & Cheese Happy Hour on Friday, January 27 at 6 PM upstairs in the Beach and Tennis Club.
In addition to the Happy Hour, there will be a Wine Competition that will begin at 6:30 pm. People wanting to participate in the friendly competition need to bring one bottle of wine (per person) as their entry. You may submit more than one bottle in the tasting and there will be both a red and white category. Only people submitting a bottle of wine in the competition will be able to taste the wines and ultimately select winners.
The wines will be concealed so we can judge by taste alone. The judging will be from 6:30 to 8 PM. Each participant will place their tickets in their favorite red and white wine. There will be prizes for first and second of red and white wines.
The Lakes will provide tiny tasting cups, snacks, cheese, crackers, olives, water etc. Please bring any other beverages you would like to drink. This is an adult only event.
Activity Committee