Spring Fling in The Lakes
80's Style in the Park
Come celebrate the 80's at the Lakes Spring Fling on Sunday, April 12 from 4 to 7 PM with your big hair, Ray Bans, track suits, and heavy eye liner as popular Valley band Rock Lobster performs all the favorites from your old mix cassette tapes.
There will be a kids craft table and a few rounds of 80's trivia with prizes. It's going to be totally gnarly, man.
Join neighbors and friends in your parachute pants, half shirts, and neon whatever for a fun Sunday afternoon in the Beach and Tennis Club large park with Rock Lobster playing cover hits from the 80's! Get your tickets now for the Lakes Spring Fling and enjoy live music, delicious food, and beautiful weather.
Tickets on sale now
Tickets can be purchased in advance at the Clubhouse for just $5 per adult, $2 per child 5-13, kids 4 and under are free. Ticket prices will increase after April 8 to $10 and $4, and only a limited number will be sold.
Submitted by Suzanne Reddie
Poker Regatta
Hope your were there!
Saturday, March 21 was the perfect warm and sunny day for the holders of 220 Poker Regatta tickets to cruise the waterways, visit with neighbors and friends, and enjoy a day playing Regatta Poker. A fried chicken lunch and live music by the Rave rounded out the day!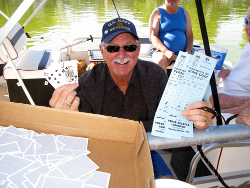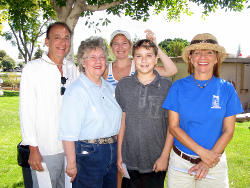 Pictures of this year's Poker Regatta are up on the Gallery page.
Winners
Mary Edwards - four Kings
C.J. (Joe and Jeanette Carobi's grandson) - four Jacks
David Mastroianni - four 6's
"Lucky Losers"
Kathy C. on Phil Twitchel's boat, Karen Puckett, Mary Lausen, Ken Martin, and Nancy O'Connor.
Thank you to the scorekeepers: Bob Marshak and Leo McCarney. A big "Thank You!" to the "dock workers", Shirley and John MacLellan and granddaughter Mia, Jan Blanco, Mona Panicci, Nori Muster, Toni Brown, Alecia Kindgren, Maureen Harrison, Nancy and Tom Henneberry, Jan and Bob White, Mary and Scott Edwards and Duane Ottum.
And a special thank you for all the assistance of the Lakes Clubhouse staff. It was a great day!
Brought to you by the Lakes Activity Committee