The Official Website of The Lakes of Tempe - thelakesoftempe.com
Re: Our Water Rights and Our Lake
LCA President Dave Kemper
LCA President Dave Kemper has posted the Power Point document that was presented at the May 27, 2015 LCA Board Meeting.
Sign Up Now for Lakes Kids Kamp
Cool Summer Fun
School's out...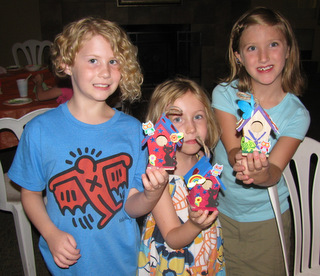 And it's time to start planning your summer fun!!! Come make new friends while enjoying sports, crafts, swimming, games, cooking and snacks at the Lakes annual Kids Kamp. Kamp is open to kids 7 to 12 years old every Tuesday, Wednesday and Thursday from 9:30 to 11:30 AM beginning June 9 and ending July 23. The week of July 4 there will be no Kids Kamp and it will resume on July 8.
Parents can avoid the kids complaining of summer boredom by sending them to Kids Kamp and enjoying some free time to themselves, all the while knowing their kids are having a blast with neighboring kids and making new friends.
Sign up at the Clubhouse as soon as possible due to a 25 kids maximum. The cost for kids ages 7 to 12 will be $20 per week whether you attend one or all three days per week. Don't miss out on the fun!!!!!!
Sponsored by the Activity Committee
Stay Cool This Summer On The Lakes Swim Team
Join Us!
Spring is in the air, temperatures are warming, and summer is right around the corner. Keep the kids active and healthy during the hot summer months while they build their swimming skills and have fun competing for the Lakes Snakes Swim Team.
We're a Valley Swim Team Tradition
Poolside with the Lakes Swim Team is the "cool" place to be in the summer! Kids can learn how to swim correctly or perfect their strokes, enjoy camaraderie among team members, and learn good sportsmanship. The long-standing tradition (we're talking 41 years here) of the Lakes Swim Team provides a wonderful opportunity for families to meet and spend time with each other - a real sense of community! Read more on the Swim Team page.